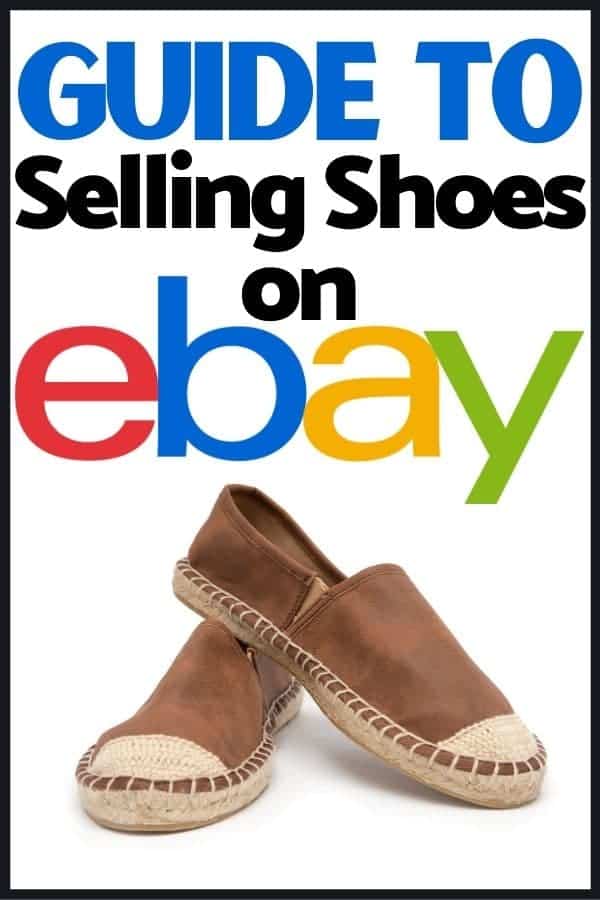 (Note: The links in this post are affiliate links, and we will be compensated when you make a purchase by clicking through our links. Read our disclosure policy.)
Shoes can be great items to sell on eBay. They are easy to source, simple to list and photograph and can be shipped easily with USPS. While profitable, if you want to start selling shoes on eBay for maximum profit, there are some things you will want to know.
Guide to Selling Shoes on eBay
Where to find shoes to sell on eBay
If you are new to selling shoes on eBay, you might want to start with looking in your own closet.
Do you have any shoes that you no longer wear? Are they still in wearable condition? Then get started by listing them!
Other great places to look for shoes to sell on eBay are thrift stores, clearance sections of department stores and on Facebook marketplace.
How to Inspect Shoes for Flaws
When you are purchasing shoes to resell, it is important that you inspect the shoes carefully.
Not only are cosmetic flaws important to note, but you should also look at structural flaws.
Check the laces (inexpensive to replace, but do factor)
Check the seams of the shoes around the sole to make sure they aren't lifting.
Look at the soles carefully. Make sure that there isn't too much wear on any one part of the sole of the shoes.
Look at the foot bed of the shoe. Make sure that the insole is intact and isn't too worn.
All of these things will matter to your buyer and can detract from your shoes selling on eBay for top dollar.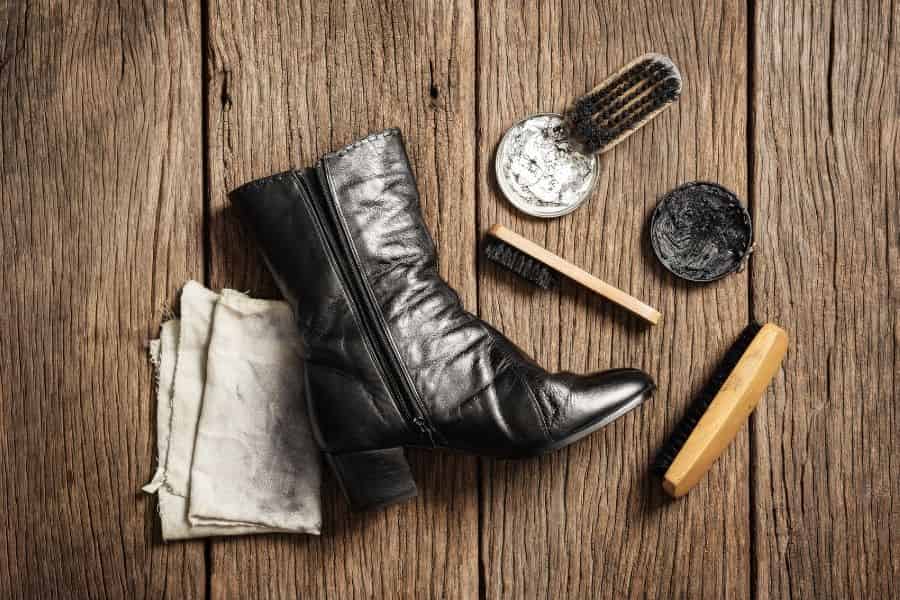 How to Clean Shoes
When getting ready to sell shoes on eBay for the most profit, you are going to want to make sure that they are in clean condition.
You are best to invest in a few shoe cleaning tools so that you have everything you need.
Items in my Shoe Cleaning Kit
Shoe Storage
When it comes to storing your shoes you have for sale on eBay, you are going to want to make sure that you do so with care.
The last thing you want to do is throw your freshly cleaned shoes in a bin because you are more likely to get them scuffed up or create damage.
I believe that you should invest in a shoe organizer. It doesn't have to be fancy, but it should stand vertically and be sturdy so it does not topple over.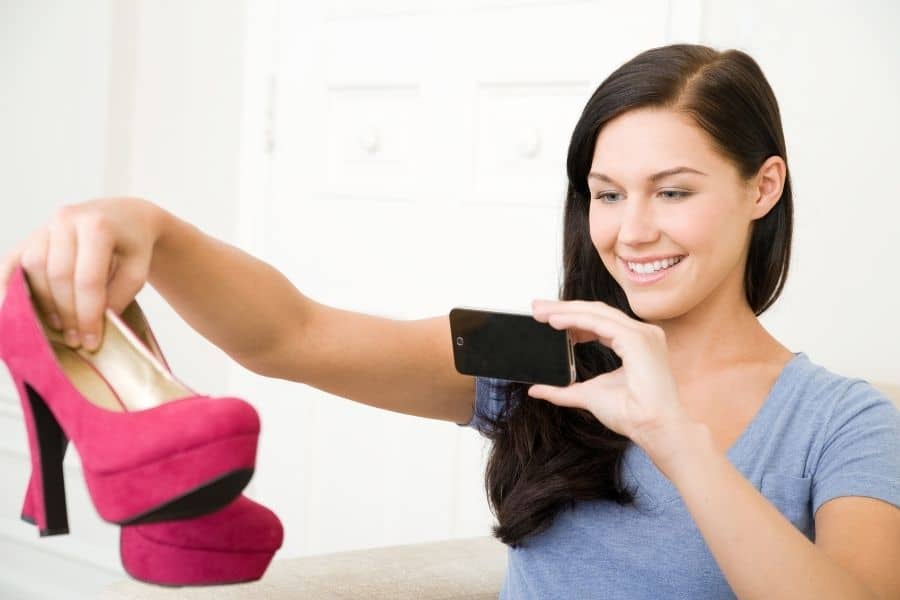 Photographing Shoes for eBay
One of the most important things you can do is photograph your shoes in natural light.
Shadows are really bad when photographing shoes, so you will want to make sure that you have proper lighting if you don't have enough natural light.
While some will say that a white box is best for shooting shoe photos, I will say that while nice, it isn't a must.
I've seen shoes sell really well when displayed in a number of different ways, on white fluffy carpets, on wood floors and with backdrops.
The key is to have that natural light and to take pictures of the shoes from all angles.
The first photo in your listing should be a side angle of the shoes.
You should always include photos of the front, back, interior, size tag, and the bottoms of the shoes (so that people can see the amount of wear).
If there are any flaws on the shoes, makes sure you capture them in a photo.
Listing Shoes on eBay
You will find that there will be several fields you will need to include when listing your shoes for sale on eBay.
First, you will need to create a title. Your title should follow the following format:
BRAND/ COLOR/ MATERIAL/STYLE/ "SHOES"/ GENDER/ SIZE
Your size in the title should always be in US and then in the drop down selections you can put the EURO sizing.
In the condition field, make sure you list any flaws.
Flaws should also be noted in the description field.
Shoe Brands to Sell on eBay
Yes, if you find some Jimmy Choo or Christian Louboutin at your Goodwill, you should pick them up. Chances are they are fake, but hey, what if they are legit? Before listing, you should definitely get them verified for authenticity.
More than likely, you will stumble upon some of the following shoe brands.
Used Shoe brands that consistently sell for over $100 on eBay:
Tory Burch
Frye
Rothy's
Dr. Marten's
Free People
Birkenstock
Tieks
Freebird
Brooks
Tod's
Miu Miu
Stubbs & Wooten
Hoka
Trippen
Finn
Used Shoe Brands that Sell for $25+ on eBay
There are some shoes that I consider "Bread & Butter Brands." These are shoes that consistently sell for over $25.
NIKE
Adidas Cloudfoam
VANS
Converse All Stars
Clarks
Cole Haan
KEEN
Ryka
Dansko
Merrell
UGG
Five Fingers
On Cloud
Ariat
Steve Madden
Chaco
ECCO
Vionic
Muck
Sorrel
Allbirds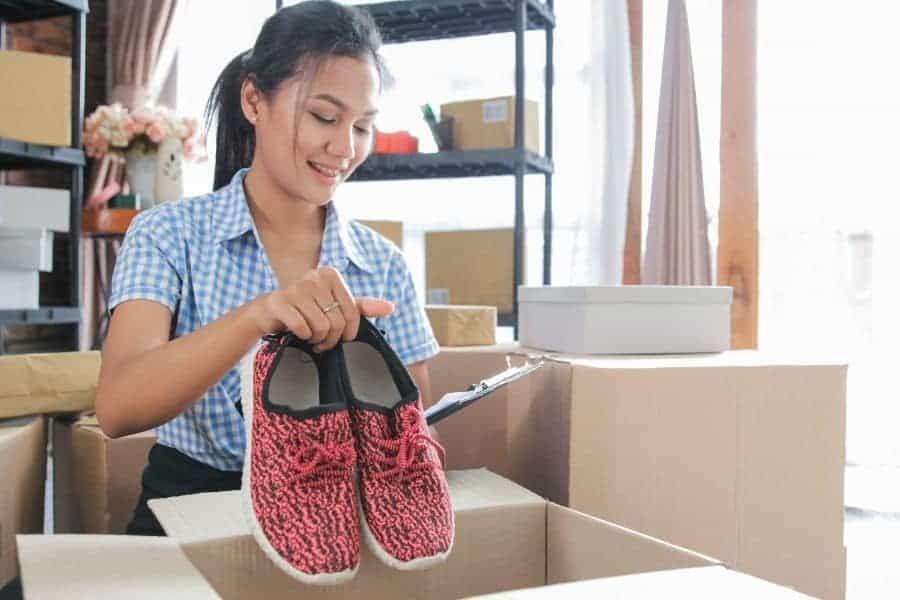 How to Ship Shoes on eBay
Shipping shoes via Priority is the best option to save money. USPS provides FREE Priority shipping supplies (yes, they will even ship them to your home!).
I ship shoes either in a Padded Flat Rate mailer or a Priority Shoe Box.
The Priority Padded Flat Rate mailer is the cheapest way to send shoes and a great option when you are paying shipping fees.
I ALWAYS charge shipping on shoes for the sake of the return process. If someone returns the shoes because they don't like them, then I don't have to eat the shipping cost.
If you choose to ship shoes via Priority Box, I do suggest that you charge shipping based on the weight. Don't forget to add the weight of the box!
When shipping the shoes in a box, you might find the box to be a bit big. Be sure to cushion the shoes by wrapping them in paper (Dollar Store sells large packs or Tissue paper for $1).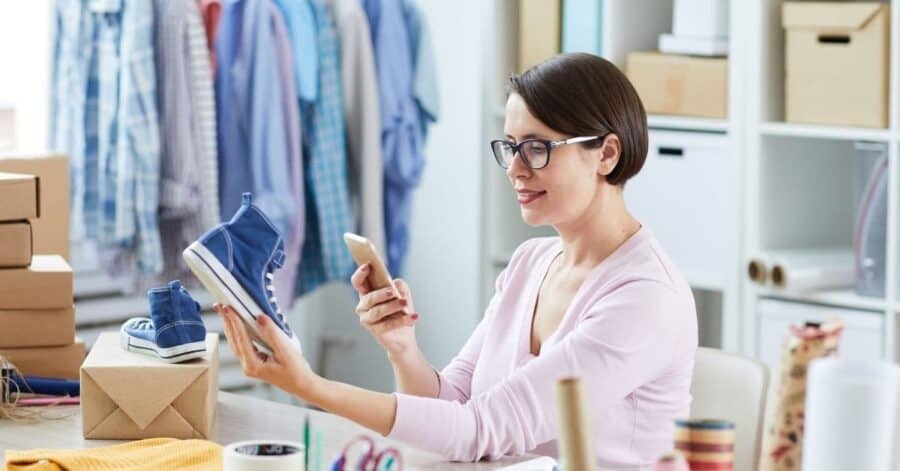 I hope that if you are looking at expanding your eBay business into selling shoes that you found this guide helpful!