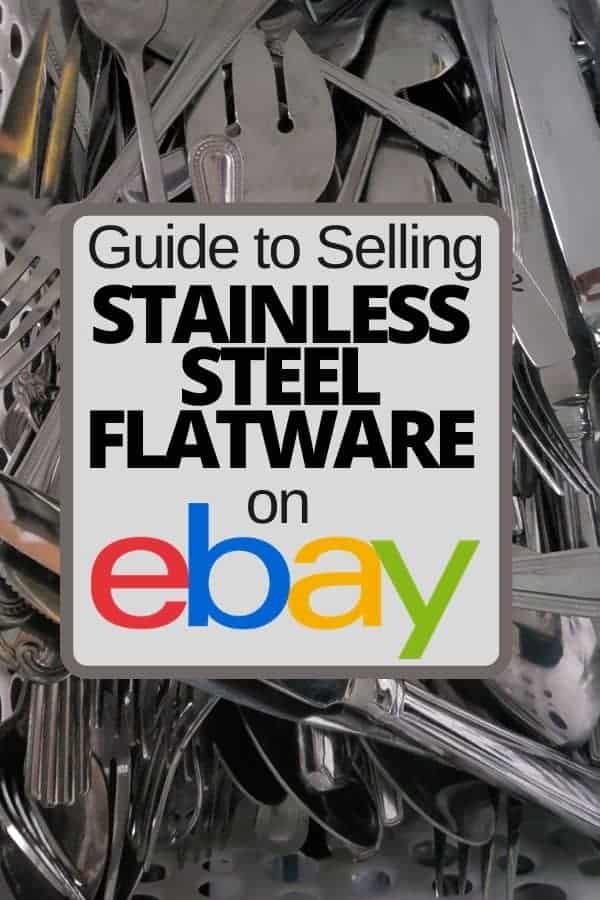 People who are just starting out selling on eBay may be looking for something simple and inexpensive to flip. One of the things that many thrifters overlook is flatware. But if you continue reading this guide to selling stainless steel flatware on eBay, you will learn that this can be one of the easiest items to flip for profit!
Guide to Selling Stainless Steel Flatware on Ebay
One of the first things you should know is that while most stainless steel flatware sells on eBay, there are some pieces that are more valuable than others.
I do not suggest just stopping by a thrift store or yard sale and purchasing any stainless steel flatware pieces that you find. You need to do a little bit of easy research first.
Who Buys Stainless Steel Flatware?
First, you need to understand who is buying used stainless steel flatware pieces.
Collector
Often, it is someone who is trying to complete a set they have.
Perhaps, their grandmother gifted them an incomplete set or maybe, over the years, they have lost pieces (I know our kids were terrible at accidentally throwing away utensils when they were small).
Those people are looking for specific pieces of a certain make & pattern.
Who else is buying Stainless Steel Flatware on eBay?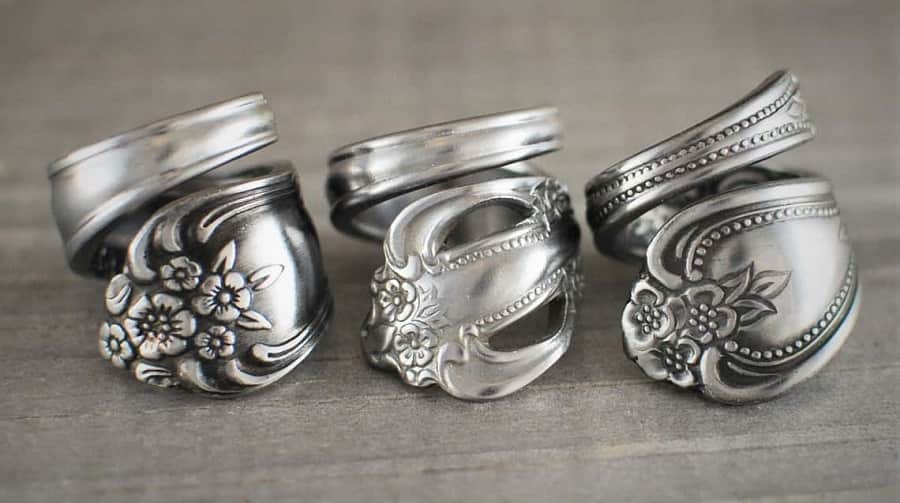 Crafters
Crafters love stainless steel that comes in beautiful or intricate patterns that they can use to make rings and bracelets.
For that buyer, all that really matters is they type of piece (usually they purchase spoons) and how the stainless steel pattern is designed. The more intricate and decorative, the better.
What to Look for in Stainless Steel Flatware to Sell
Stainless Steel Grade
When shopping for stainless flatware, you will often see markings of 18/10 to 18/0 on the underside of the piece. This number combination tells you how much Chromium & Nickel are present in the piece.
Chromium helps keep the flatware from rusting.
Nickel gives the piece its shine.
Stainless Steel Flatware Grades
18/10 flatware – 18% Chromium, 10% Nickel
18/8 flatware – 18% Chromium, 8% Nickel
18/0 flatware – 18% Chromium, no Nickel
13/0 flatware – 13% Chromium, no Nickel
When looking for flatware to buy, you should strive to buy flatware with an 18/10 and 18/8 alloy because they are the best quality pieces, full of luster, and typically have more intricate designs.
Maker
Most name brand flatware makers like Oneida, Lenox, Gorham stamp their names on the back of the handle or across the base of the knife blade.
Country Made
This is one of the most important parts of dating your piece because most Stainless Steel flatware is now made outside of the United States.
If you happen upon a piece marked United States, then it is probably old and probably worth buying to resell!
Patterns
As I stated earlier. Beautifully patterned pieces of stainless steel flatware will sell to crafters.
Those looking to add to their private collection will most likely know the pattern name and this means that is something you should know as well.
How to find the Pattern name of Stainless Steel Flatware
One of the best ways to find the pattern name of a piece of Stainless Steel Flatware is to do a search on Replacements.com with the makers name.
It might take you a little while to scroll through all the different patterns for a maker, but you should be able to find it.
If that doesn't work, you can always search on eBay or Google Images using the identifiers you have.
Those that are serious about selling Stainless Steel Flatware will want to get a copy of Bob Page's Stainless Flatware Guide.
While it hasn't been updated since 1998, it has so much helpful information and pictures that it is the main resource for most antique sellers and flatware resellers!
How to Ship Stainless Steel Flatware
Shipping Stainless Steel flatware is so easy!
The key is to make sure that you protect the piece so that it arrives safely.
You should wrap in bubble wrap and place in a padded mailer if you are shipping first class USPS.
If you are shipping multiple pieces, you might want to ship in a small flat rate priority box.
The key is to make sure the piece is insulated.