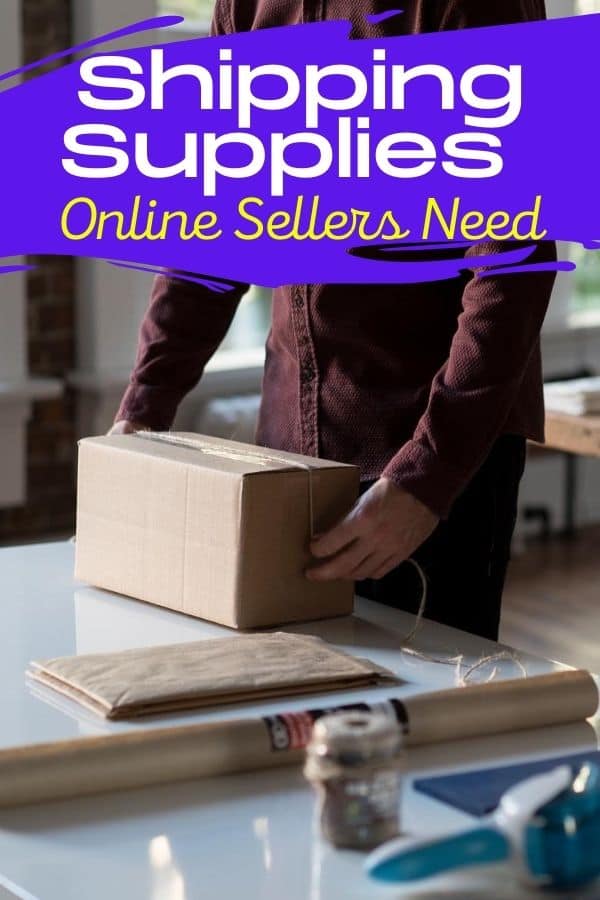 (Note: The links in this post are affiliate links, and we will be compensated when you make a purchase by clicking through our links. Read our disclosure policy.)
When it comes to running an online retail business from your home, you want to make sure that you do things that save you time. One of those things is shipping from the comfort of your home. If you are wondering what shipping supplies online sellers need, we have just the list for you!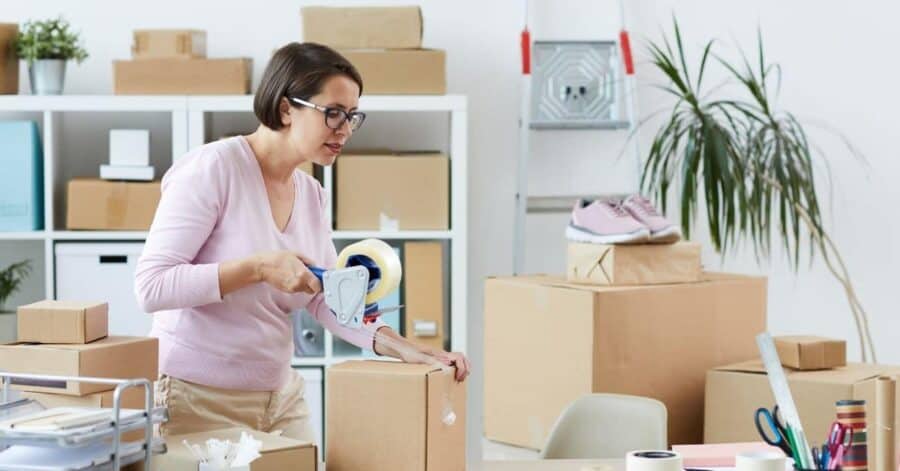 Shipping Supplies Online Sellers Need
Shipping Scale. Make sure that you have a scale that will not top out at 25 pounds. While you might not anticipate shipping anything weighing that much, you should go ahead and purchase a shipping scale that goes up to 75lbs just in case!
Shipping Tape. If you sell online, you are going to go through shipping tape. Do yourself a favor and purchase your tape in bulk and make sure that you get heavy duty scotch tape that is good for packaging.
Boxes. Having a great selection of boxes will save you on headaches down the road. I would first suggest that you order a nice supply of USPS priority boxes online. They are FREE and are a great first place to start. Just remember that the USPS boxes are ONLY for Priority mail. You will need to purchase your own regular boxes for things you wish to ship via first class.
Polymailers. If you are shipping anything first class that isn't breakable (clothes, linens, books), you are going to want to make sure that you have a large selection of different sized Polymailers. I think it is equally important to make sure that you have some Bubble Polymailers. These are great for shipping things like CDs, DVDs and toiletries.
Shipping Labels. If you are planning to print with your normal ink jet printer, you will want to make sure that you purchase shipping labels so that you can print your postage from home. If you want to make sure that you aren't eating up all your profits by having to purchase printer ink and labels every month, consider investing in a Dymo Label Printer. These little things cost a lot, but over the long term they will save you big money.
Account with USPS. One of the great things about shipping with USPS is that they will come to your door to get your packages. Sign up for an account and then use the pick up mail request. You can set it so that it comes every day or whatever day your decide you want to do your shipping. You can set it to pick up at your Front door, side door, mail box, porch, etc. It is one of the best tools to save time when running your own online selling business.