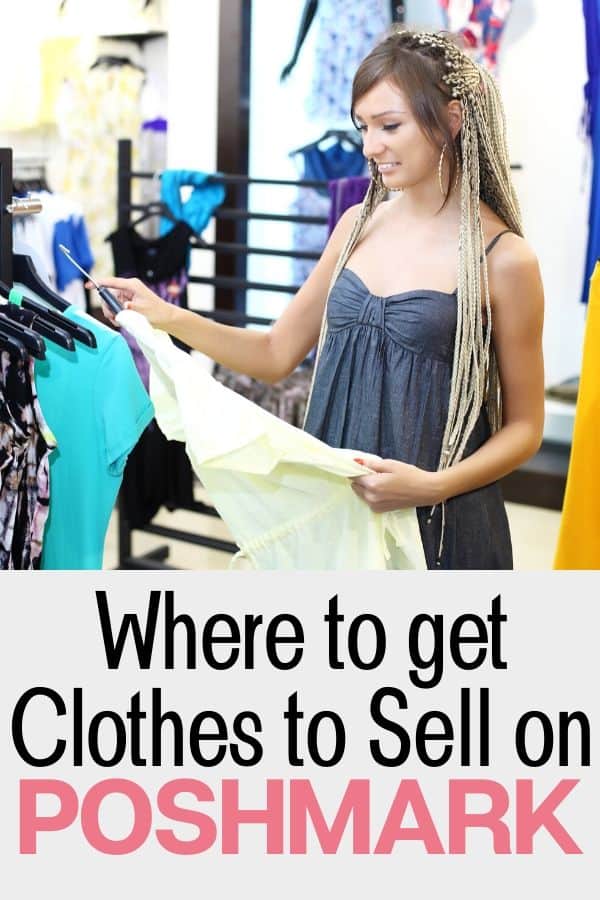 People who want to make a living selling clothes online at places like eBay, Poshmark & Mercari are going to need to learn the art of sourcing. Clothing has always been a great thing to resell because there is an unlimited supply that is relatively easy to find. The key is knowing where to look. To give you a jump start on your selling journey, I'm going to share with you my list of where to get clothes to sell on Poshmark!
Where to get Clothes to Sell on Poshmark
Your own closet
When you make the decision to start selling on Poshmark, you are going to want to start off slow in order to make sure you know what you are doing. The best place to start is your own closet.
Go through your closet and try on each & every item.
If you don't love it or if it doesn't fit, it should find a new home!
Thrift Stores
One of the best places to find clothes to sell on Poshmark is at places like Goodwill.
Goodwill gets a bad rap and people believe that most thriftstores are filled with old or damaged items.
This is simply not the case.
Often, people who donate clothes to Goodwill don't have the time to sell them or simply don't need the money.
This can really work to your advantage because you can get high end clothes for around 10% of its retail value!
My theory is to buy low and sell high, so Goodwill is my favorite place to find clothes to resell!
While thrift stores don't usually sell damaged items, you still should check for holes or other imperfections.
Yard Sales
One man's trash is another man's treasure, right?
Yardsales can be really great place to find clothes, especially if the person selling is willing to haggle.
My favorite thing to do is to find several pieces and ask for a lower price for the lot. Often, they will be more than happy to cut a deal!
I LOVE to hit yardsales in the more expensive side of town because they are usually where I find the BEST stuff.
Consignment Shops
Consignment shops are my LEAST favorite places to find clothes to resell, BUT sometimes you will find a unicorn that makes it worth checking out.
Sometimes people don't know what they have.
For example, I am always surprised when I find Theory marked dirt cheap at places like Plato's Closet.
Discount Retailers like TJ Maxx & Marshalls
TJ Maxx and Marshalls often carry some great name brand clothes and for a fraction of what you'd spend if you bought them at a regular retail store.
Why is this?
Well discount stores like TJ Maxx and Marshalls purchase clothes in bulk from retailers at the end of the season.
And while you might be getting last year's fashion, most of it is still on trend and since it is new with tags, you can list it as such.
Major Retailers Clearance Racks
Big name stores often have sales racks in the back of their store.
Those are my favorite places to shop because you can score some really awesome deals.
Since you don't have to worry about finding a certain size, you get to go through the whole rack searching for the best deals!
Don't forget to look for a coupon! You might be able to save even more and again, we're talking new merch which is the most profitable of all!
Ebay
If you don't have access to stores, one way you can still get clothing to resell is by purchasing clothes on eBay. This can be done one of two ways.
You can look for items selling for cheap and buy them to flip. There are plenty of sites like TYPOHOUND that will allow you to search eBay for misspelled words in titles. This is a great way to score name brand clothes that are sitting in auction without any other bidders.
Another way to use eBay to get clothes to sell on Poshmark is to buy Bulk Wholesale Lots. There are people on eBay that are looking to get out of selling clothes and have placed them in lots.
Facebook
Remember back in the day when you would look for things on Craigslist?
Now, the popular place to go is Facebook Groups!
Make sure to search local online Yardsale Groups, Your Neighborhood Group, as well as Facebook Marketplace!
Outlet Stores
While not all outlet stores have outlet prices, some run really great sales & often offer some type of discount on top of the sales price.
Many of the items in the Outlets are last year's merchandise, but are new and in perfect condition.
While your profit won't be as much as it would be if you used some of the other methods to source clothing, you will still come out on top.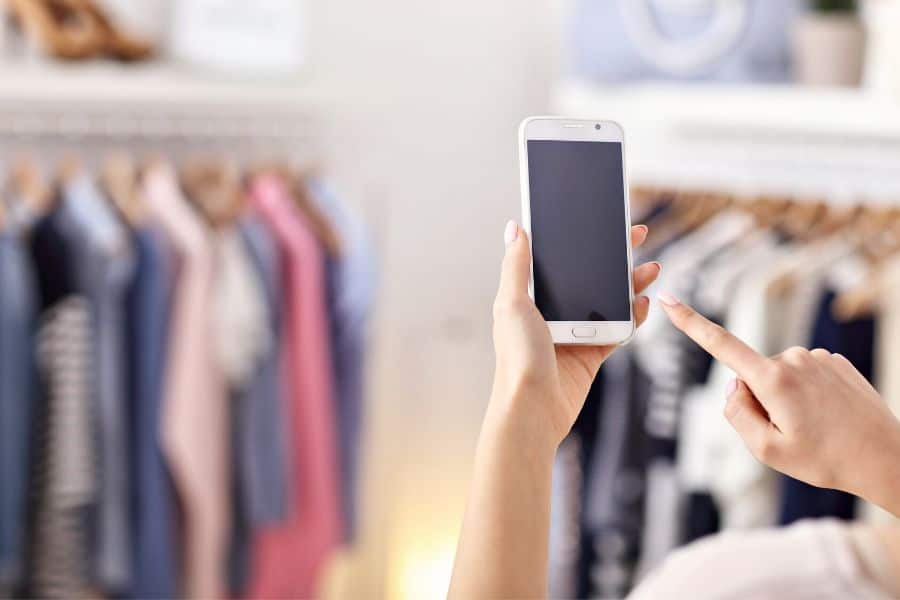 The key to sourcing clothing is to ALWAYS do your research before you buy.
There are some popular brands that sell well on Poshmark that I always buy, but if I'm not sure about the brand or whether the style is that profitable, I will always check current Poshmark listings before making the purchase.
Do you currently sell on Poshmark? Where do you source clothing to sell?