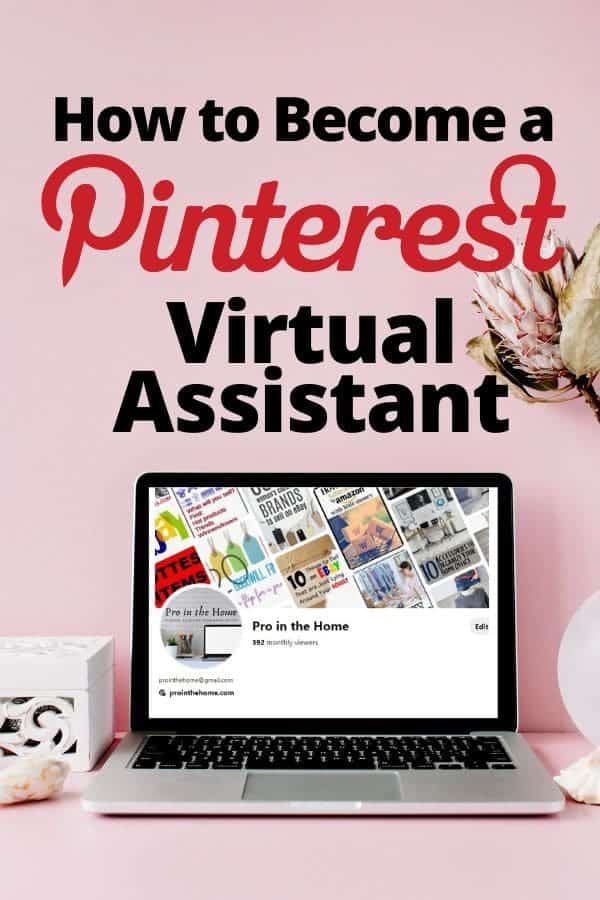 Do you have a knack for creating beautiful images for Pinterest? If so, you might just want to consider marketing your skills and becoming a Pinterest Virtual Assistant.
Remote work is the wave of the future and one of the up & coming online businesses that you can run is by becoming a virtual assistant for someone who is looking to increase their Pinterest marketing.
With over 335 million active users, Pinterest has become one of the best platforms to get your business noticed!
Both bloggers and other online businesses are now outsourcing their social media and Pinterest Virtual Assistants are becoming more and more valuable.
What does a Pinterest Virtual Assistant do?
A Pinterest virtual assistant is a freelance worker (independent contractor) who offers services focused on Pinterest growth for bloggers & business owners.
Pinterest Virtual Assistant Services
Create Eye-Catching Pins
Research Key Words for Pin Titles & Descriptions
Optimize & Organize Pinterest Boards
Share Pins
Track Pin Growth & Engagement
Scheduling Pin Campaigns
Where to Find Work as a Pinterest Virtual Assistant
One of the best ways to promote your business as a Pinterest VA is through your own Pinterest account!
If you can showcase some of your creativity and show how well your own pins do, then you are bound to get found by those who are admiring your style!
Another great place to drum up business is on Facebook Groups for bloggers.
Bloggers love Pinterest, but don't always have the time to spend creating eye-catching pins!
They are more than willing to pay out for someone to do the work for them so that they can spend their time actually writing their posts.
The best part about working with Bloggers is that Bloggers are a tight community and if you are good at what you do, Bloggers will sing your praises and share your contact information, leading to more business for you!
UPWORK is one of the best places for NEW VA's to get work. Set up a profile and portfolio and then choose your rates.
How much do Pinterest virtual assistants make?
Since a VA is an independent contractor, the price is determined by experience and clout.
I would suggest starting out with a reasonable price because that is what drives traffic. Once you have proved yourself as a successful Pinterest Virtual Assistant, then you can up your price.
This doesn't mean you should sell yourself short. If you do some research, you will notice that some VAs charge hourly rates.
You can set your own price, but $15 an hour is a fair fee to start off with.
Once you get your feet wet, you can then start to put together packages for your services. Packages can be very profitable for you and allow more work flexibility.
What You Need to become a Professional Pinterest VA
Professional Website
In order to market yourself effectively, you will definitely want to have a website where you can showcase your work. Setting up a website isn't difficult and you can definitely do it on your own.
The main thing you will want this website to do is bring you business so you will want to make sure you adequately describe your business and allow those who might be interested in your services an idea of what they can expect if they choose to hire you.
Pinterest Business Account
You will also want to make sure that you have a Pinterest account that isn't your personal one! If you want to start your own online business, you are going to need to get a business Pinterest account.
This will give you perks like Rich Pins and Analytics.
Tailwind Account
Tailwind is the social media scheduling tool for Pinterest (and Instagram). It is a must have for anyone who is serious about becoming a Pinterest VA.
Setting up a Tailwind Account is easy and they have great tools and videos to help you get started. If you sign up with my link, you will get a free month to check it out!
Still not sure if this is the right career path for you? There are plenty of online Pinterest VA Courses that you consider investing in, just be sure to read the reviews to see if they are worth the investment! Do you have a course that you love? Comment below.